Forum on Corporate Responsibility of Businesses in Riga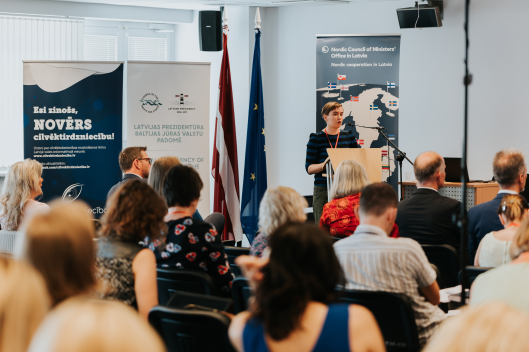 HEUNI was happy to participate in the Forum on Corporate Responsibility of Businesses: Prevention of Labour Exploitation in Riga on 6 – 7 June 2019. The event was organised by the Ministry of the Interior of the Republic of Latvia in cooperation with Nordic Council of Ministers and the Council of the Baltic Sea States (CBSS) to discuss the role businesses in the work against human trafficking and labour exploitation. Moreover, The Organization for Security and Co-operation in Europe (OSCE) organised a panel on how public procurement practices could be leveraged to combat human trafficking in supply chains and to ensure that services and goods purchased by state institutions are free of labour exploitation.
Our senior programme officer Anniina Jokinen gave two presentations in the forum: one on HEUNI's experiences in developing the work against labour exploitation in Finland resulting in the guidelines for businesses for risk management and one on the FLOW project which focuses on uncovering the complexities between labour trafficking and economic crimes in Bulgaria, Estonia, Finland and Latvia. Anniina presented some initial findings from the FLOW project based on mapping conducted in Finland and analysis of two recent cases of trafficking for forced labour in the restaurant sector which resulted in convictions on both human trafficking as well as economic crimes such as aggravated tax fraud and aggravated bookkeeping fraud.
Both presentations received a lot of positive feedback and questions and comments from the audience comprising of governmental actors such as procurement specialists, judges, prosecutors, police officers, labour inspectors, as well as representatives from businesses and NGOs from the Nordic and the Baltic countries, North-West Russia, and the UK.