Natalia Ollus and Pia Marttila participated in a discussion on human trafficking at YLE1 Radio
Published 14.8.2018 Updated 26.9.2018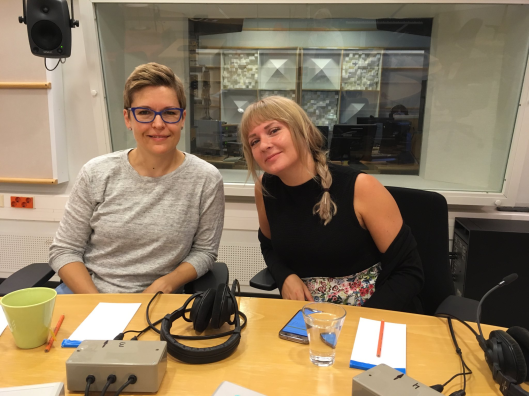 HEUNI director, Natalia Ollus, participated in a morning show at YLE1 Radio, Finland's national public broadcasting company together with Pia Marttila, Senior Advisor at Victim Support Finland. The discussion evolved around human trafficking, related terminology and the current situation in Finland.
In Finland, there is an official system for assisting victims of trafficking in human beings, functioning under the umbrella of the Ministry of the Interior. According to Natalia Ollus, during the first six months of this year, 115 people were presented to the help system, of which 76 were approved.
The number of victims of trafficking in human beings in Finland and in the rest of the world is unknown as it is hard to measure. The figures from the system of assistance however give some indication of the phenomenon in Finland.
Term "slavery" distorts the notion of what is spoken
In recent years, in English, the notion "modern slavery" has become commonplace. Both Pia Marttila and Natalia Ollus are reluctant to call trafficking in human beings "modern slavery".
"I understand the use of the term as such. On the other hand, I criticize it because it distorts what we are talking about. When we talk about modern slavery, we tend to think of extreme exploitation, extreme violence, and the use of force. In the cases of trafficking in human beings, which have been uncovered in Finland, it is often much more commonplace with more subtle forms of exploitation and coercion", Dr Ollus says.
"If we use conspicuous terms and labels, it prevents people who are themselves in that situation from recognizing their situation as human trafficking, or people who could identify these people as victims, do not recognize them", adds Marttila.
People's mobility and migration can hardly reduce trafficking
Dr Ollus notes that exploitation can be thought of as a continuum:
"If we consider the "less serious" form of exploitation, the most common form of labor exploitation in Finland is underpayment. The act of underpayment itself is not human trafficking, but when it leads to additional elements of more and more serious exploitation, it begins to approach trafficking."
In Finland, the most common of human trafficking coming to the attention of the authorities are labour and sexual exploitation, and there are increasing numbers also of of forced marriages. The current global trends of increasing mobility will continue to correlate with the emergence of cases of human trafficking.
Read the full summary in Finnish