New publication by HEUNI on the costs of assisting victims of trafficking in human beings
Published 8.12.2017 Updated 14.12.2017
HEUNI has released a new web-publication, "The costs of assisting victims of trafficking in human beings: a pilot study of services provided in Latvia, Estonia, Lithuania", which is now available online.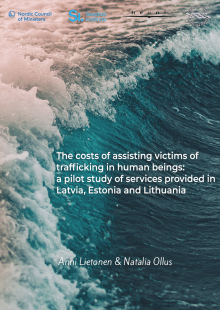 Human trafficking is a serious crime, and causes severe consequences for victims. Because of the often very traumatic exploitation and abuse involved, victims may need specialized assistance to recover from their experiences, and victim assistance requires the participation of health, social and/or legal sectors of society. This research focused on the types of services provided to victims of human trafficking in the three Baltic countries, the costs associated with such services, and the role of non-governmental organisations and municipalities in supporting victims. Increasing the understanding of the direct costs of assisting victims of trafficking aims to increase the understanding of the problem of trafficking among state and municipal actors, as well as increase awareness of the financial impact of trafficking on victims, service providers and the state. The study was a first attempt to map the costs of trafficking in the three Baltic countries. The pilot nature of this study required the development of specific research tools and methodology, all of which are included in the report.
This report is prepared as part of the STROM II -project "Strengthening the work of municipalities in the work against trafficking in human beings". The project is coordinated by the Secretariat of the Council of the Baltic Sea States (CBSS) and supported financially by the Swedish Institute and the Nordic Council of Ministers (NCM).
For more information, please contact: Natalia Ollus (natalia.ollus@om.fi) and Anni Lietonen (anni.lietonen@om.fi)