HEUNI's team of experts welcomes a new member
Ms. Inka Lilja joined HEUNI's team of experts as of the beginning of October. Ms. Lilja has a degree in law with a major in criminal justice. She says that she has always been fascinated by the socio-cultural context and moral aspects of criminal justice, and is therefore inspired by the humane criminal justice spirit reflected in HEUNI's work.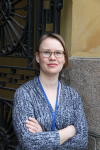 Ms Lilja has previously worked for the United Nations Crime Prevention and Criminal Justice Programme, and believes that HEUNI's expertise and quality research can contribute greatly to UN policies. She is most familiar with UN norms and standards, tools and guidelines related to child victims, legal aid and police integrity, and is excited at the prospect of further enhancing her knowledge by working with HEUNI's pool of experts on corruption, human trafficking and gender-based violence.
Ms. Lilja has studied development policy and has extensive field experience from developing countries, and therefore hopes to strengthen HEUNI's portfolio in technical assistance. Ms. Lilja says that in her everyday work with UNODC Myanmar she could clearly see the interconnections among human rights, criminal justice system and poverty. She hopes that while working at HEUNI she can contribute not only to the identification of promising European criminal justice and crime prevention practices, but also take part in disseminating these practices within Europe and beyond.